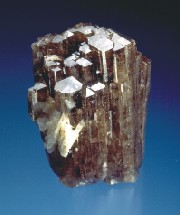 Tourmaline crystal from O'Grady
Lake, NWT (actual size, 6 cm tall)
The discovery of diamonds in the Northwest Territories and the subsequent development of the Ekati and Diavik diamond mines has put Canada on the map as a major gemstone producer. Prior to these developments, Canada was generally regarded as a nation devoid of gemstones, with jade being the only significant exception. Other Canadian gemstone occurrences, such as aquamarine and hessonite garnet, are known and have even been studied, but the general public is largely unaware of their existence. However, recent discoveries of sapphire, emerald, opal, garnet and tourmaline have received media attention and added to the overall increase in awareness and interest in Canadian gemstones that the NWT diamond discoveries initiated. Perhaps some of these new discoveries will prove to be valuable mines in the future and be added to the growing list of gemstones that Canada produces.
There are a growing number of gem materials that are not commonly used in jewellery either because of extreme rarity or because they lack durability. These will be discussed later under the heading, "Rare and Collector Gemstones".
Unless otherwise noted, this list only includes localities that have produced faceted gems or crystals that could otherwise be cut into gems.