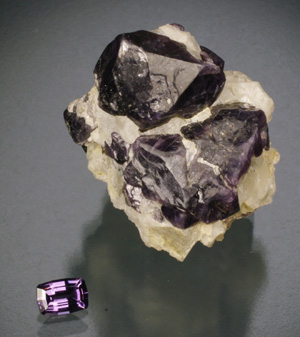 SPINEL from Glencoe Island, Nunavut
Crystal sample measures 28 x 19 mm.
Gem weighs 0.39 carat.
Blue, purple, violet and pinkish violet spinel crystals occur at several sites located on the southern coastal region of Baffin Island, Nunavut. Small spinel gems, mostly less than half carat, with similar colours have been cut from at least eight localities. The gemstones offer for sale on this webpage comes from two of these localities, Glencoe Island and Waddell Bay.
Minerals from Glencoe Island were first described in a 1982 article in "Rocks and Minerals" magazine. Glencoe Island is located 85 km west of the hamlet of Kimmirut. Crystals collected in 2008 range in colour from greyish blue to violet to pinkish violet and the largest gem cut to date weighs 0.39 carat. The Glencoe Island spinels on this webpage were cut from material found in 2008.
Decades ago, local prospectors found dark blue and violet spinel crystals at Waddell Bay, located 85 km southeast of Iqaluit, Nunavut. Small, blue gems as large as 0.23 carat, have been cut from Waddell Bay spinel. The Waddell Bay spinels on this webpage were collected in 2002.
With a hardness of eight and a lack of cleavage, spinel makes a durable gemstone suitable for all types of jewellery.